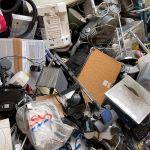 Transitioning to a Circular Economy for eWaste with Creative Artists (TRACE-E)
Age suitable for: All ages
Accessibility alert:

Loud sounds
Flashing images
Darkened spaces
Hearing loop available
The eWaste crisis continues to grow, with 7.3kg per person of electrical and electronic waste thrown away each year globally. However, we can stem the rising tide of eWaste and transition to a circular economy!

Come see this live performance fusing music, dance, graphics and spoken word, all exploring themes of eWaste and the environment. Listen as Musician in Residence Robin Browning and members of SÓN Orchestra (Turner Sims Orchestra in Association) take live samples from your electronic devices, then weave them into stunning music in front of you.

Watch how a dancer uses sensors and semiconductors to change the sound of the music they move to. And engage with world class scientists as they explore the scope of the eWaste problem, how we can turn the tide, and what the future with a circular economy may look like.


* PLEASE NOTE: This event is free to attend but requires additional booking. To get your ticket(s), click on the blue button 'Book your ticket'.