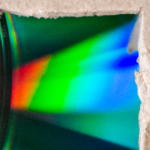 Lightwave - Hands-on Optics workshop
Age suitable for: All ages
Accessibility alert:

Join us for hands-on light science, build your very own kaleidoscope and learn all about how light works.

Fun for all the family this hands-on workshop comes with freebies to take home and impress your friends with your light creations!

Want to know how the internet works? Want to know how you can see all the colours of the rainbow?


* PLEASE NOTE: This event is free to attend but requires additional booking. To get your ticket(s), click on the blue button 'Book your ticket'.