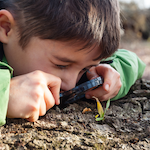 The World of our Wonderful Wildlife with the Wildlife Trust
Do you know your slow worms from your earth worms? What's the difference between fallow deer and red deer? Can you name and identify at least ten plant species?

Come to Hampshire & Isle of Wight Wildlife Trust's nature table and discover the world of our wonderful wildlife. We'll be bringing nature directly to you and there'll be all sorts of samples that you can get up close and personal with. Ask our wildlife experts all your questions to satisfy your curiosity, test your knowledge with some arts and crafts activities, and find out about even more opportunities to get out and about with the Wildlife Trust.