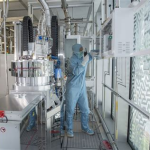 Tour of the Zepler Institute Cleanrooms
The Zepler Institute brings together leading researchers in photonics, electronics and computer science, physics, life sciences, engineering and medicine.

Our facilities enable them to innovate by providing access to one of the most comprehensive collections of fabrication and characterisation equipment in Europe.

Our researchers use their expertise in optical fibres and lasers, photonics systems, sensors and circuits, metamaterials and quantum technology to tackle key societal challenges. Our research leads to technologies and devices that make a real difference to daily life.

We are developing new types of lasers with medical applications and advancing approaches to smart manufacturing to help build the factories of the future. Our researchers are making fibres that can carry more data than anyone ever thought possible, fabricating silicon photonic circuits that will enable faster computer chips and designing sensors for tamper-proof navigational systems.

None of these projects would be possible without the state-of-the-art cleanroom facility that is at the core of the Zepler Institute.

You'll be able to look around our cleanroom facilities and talk to some of the researchers and PhD students working in these areas.