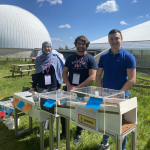 Come and look at a fish's journey down a river!

Fishes may encounter lots of challenges as it travels up or down a river. Lots of these challenges are because of humans.

Some things the fish may encounter are: turbines (which may cause physical damage to the fish), over fishing and pollution. Come and find out more!