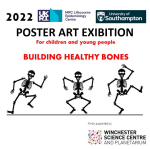 Be The Judge and Pick a Winner! Poster Art Competition-Building Healthy Bones
Pick a Winner! Put your judging skills to good use and vote for your favourite poster about how to keep your bones healthy.

In March 2022, we launched an online competition as part of Southampton Science and Engineering Festival, called 'Poster Art Competition - Building Healthy Bones'.

After the closing date on 24th April 2022, researchers at the MRC Lifecourse Epidemiology Centre chose the top five entries in each age category: age 7 and under, 8-11, and 12-16 years.

The chosen finalists will now have their art or design work printed and displayed at the Science and Engineering Day.

During the exhibition, you will all be invited to choose your favourite poster for each age category!

The votes will be counted at the end of the day to reveal the winners (who will receive a family ticket to Winchester Science Centre and Planetarium).