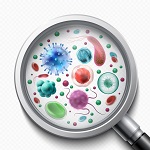 Beating bacteria and biofilms
Bacteria don't live alone, they often live communities called biofilms. Find out how these communities impact our everyday lives, from brushing your teeth to the medical care that we receive.

Get the chance to look at these bacteria under a microscope, build your own, and see which bacteria grow on your hands.