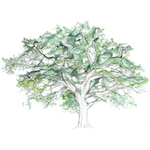 Inspired by Ruth MacLennan's film, Treeline, currently on at John Hansard Gallery.

Ruth has made a film of trees from around the world.

Artist Rachel Reynolds will be looking at at the textures, patterns and detail of trees and their structure, draw, paint and collage onto recycled papers to create a Tree fact card.

This is a family friendly workshop, suitable for children aged 4 and over.