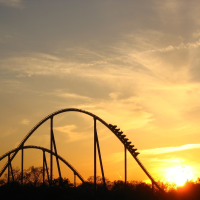 Recovery stories of children experiencing pain- short film
This short film, co-designed and co-produced with young people, allows you to experience what is feels like to be a young person having hospital treatment for pain. Through their eyes, it takes you on their rollercoaster journey from beginning to end, showing you their path to recovery.

A quarter of children and adolescents (11-18-years) experience chronic pain, this is pain that lasts more than 3-months and most commonly includes headaches, tummy, leg or back pain. Little is known about the experiences and opinions of this group of young people. As part of a research study that had ethics approval, 21 young people (aged 11-18 years-old) drew and described their personal experiences of having NHS treatment for chronic pain. Their drawings resembled a rollercoaster ride with "ups and downs". While each narrative was personal, 'The rollercoaster journey' was a written metaphor that combined the stories of all those involved.

To communicate this metaphor to other young people, a video was co-created and co-produced with young people of the same age as part of Southampton University public engagement in research project. This innovative partnership gave young people the ability to be creative and produce a video that was relevant and meaningful.