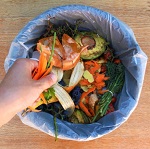 Food waste in households is a significant challenge facing the world, with about a third of the world's food being wasted.

Finding ways to reduce food waste in homes will help address the Sustainable Development Goals 2 (No Hunger) and 13 (Climate Change). Energy used to produce and transport food, and the results of decomposition contributes to 8-10% of global greenhouse gasses. What can each of us do to reduce our food waste?

Our starting point is to raise awareness about what types of food tend to be wasted, why, and to show the climate impact of this food lost to human consumption.

We will show you a range of food items that are often wasted in the UK. Your job is to identify which ones are most wasted (volume) and which have the biggest impact on our climate, in terms of greenhouse gas emissions. But it's not all bad news - we also want to hear your ideas about how we can share this information with more people to talk about food waste and offer easy tips for small changes we can all make to reduce our impact on the climate and make good use of our food resources.