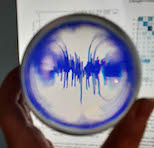 Holograms and Black Holes
Come and see an art exhibit of holograms inspired by University of Southampton Black Hole research.

The full colour holograms by Dr Pearl John have been made as a result of discussions with Dr Diego Altamirano about his research into Black Hole 'heartbeats'.

Please note:
- Visual Art display inaccessible to some vision impaired audiences.
- May also be difficult to see for some colour-blind audiences.
- Wheelchair users may have restricted viewing.