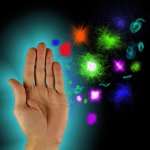 White blood cells help protect us against disease and are important to keep us healthy. B cells are one of our most important white blood cells because they are responsible for making antibodies which protect us against infections like COVID-19. Some B cells can produce 2000 antibodies per second and we have approximately 25,000,000,000 B cells in our bodies so they're busy cells!

What's amazing is not just how many antibodies we can make but also how different each antibody is - did you know that every new B cell is unique and 'designs' a new antibody?

Come and join us to become one of these helpful and individual cells. If you were a B cell what would your antibody look like? Most importantly would it protect against infection?

Come and learn about how vaccination improves antibodies; can you make 'your' antibody even better? Learn why repeated vaccination can lead to better protection from disease and get your very own decorated antibody to take home!