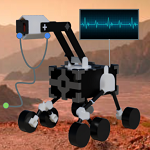 From Mars to Humans: Lighting up Life
Join us as we take you on a fantastic journey that explores how light interacts with materials and allows us to understand the world we live in and beyond!

You will see how particles of light (photons) can reveal the identity of chemicals and materials and allow doctors to make important health decisions about their patients. Incredibly, those amazing photons can also be used to detect signs of alien life on other worlds. Our exciting interactive activities include demonstrations and fun 'training' packs that will give you all the knowledge and skills you need to drive our state of the art 'R4L Rover' and embark on a mission to search for life on Mars.

Your training starts with the basics, as we explore the concepts of light and how it can be controlled and changed to make beautiful rainbow-like bands of information. Next we will explore how tiny vibrations of molecules can give us information that can be used to make medical decisions. Our very own 'Dr Raman' will give you important medical training and will show you how 'spectroscopy' works and how it is used to help keep people healthy across the world. Finally, blast off and head to mission control where you can drive the 'R4L Rover', who knows maybe you will be the one to find life on another planet.