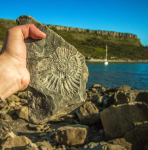 Evolution, Dinosaur Discoveries and Darwin
What is more exciting that dinosaur fossils and evolution?

Take a journey with us to discover recent dinosaur finds, and why the geology of the Isle of Wight is the best place for dinosaurs in Europe!

MRes Evolution and PhD project will outline some of the exciting research taking place in Southampton at this moment.