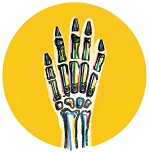 The bone crayon: exploring a reflective bioengineering : art experience
Age suitable for: All ages
Accessibility alert:

Enclosed spaces
Tactile activities for visually impaired
Improving the understanding of bones structure and function, could increase uptake of health advice around the influence of diet and exercise on bone health. Internally bone has a complex organisation which includes blood vessel and cells. Using high powered imaging techniques Dr Claire Clarkin, Associate Professor in Skeletal Biology and Dr Patricia Goggin, Head of Biomedical Imaging Unit have improved understanding around how these structures adapt during exercise, age and disease.

Teaching artist and educator Louise Fraser has collaborated with Dr Clarkin and together developed a 'Bone Crayon', a multi-layered/textured wax crayon which represents bones hidden internal layering and complexities which has been reported in Dr Clarkins research. The long term aim of this partnership will be to develop a universal tool and educational resource for discovering knowledge and deeper understanding of biological processes and used across multiple age groups.

This activity will explore STEAM a developing approach to learning that uses science, technology, engineering, the arts and mathematics as access points for guiding inquiry, and critical thinking. Traditionally arts is seen to service science, however, a reciprocal practice is possible where artists and scientists work together to explore the creative possibilities intersection of these two fields which will also be explored as part of this activity.

In this cross -disciplinary workshop you will be introduced to diverse bone structures and cells using different imaging techniques before exploring the creative possibilities of your bone crayon!


* PLEASE NOTE: This event is free to attend but requires additional booking. To get your ticket(s), click on the blue button 'Book your ticket'.