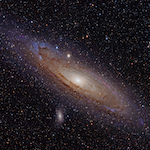 The Galaxy Group at the Department of Physics with Astronomy invite you to experience a webpage that will introduce you to the exciting world of Galaxy Physics.

We will show you high resolution images of Galaxies from the Hubble Space Telescope, a video of our unique cosmological visualisation tool 'Astera' and artwork depicting a Supermassive Black Hole from one of our students.

Along the way you will learn about the mysterious Dark Matter, Galaxy Quenching, and more.