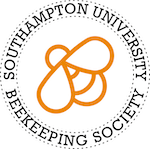 Come and say hello to the University's Beekeeping Society to learn more about bees and how you can help them!

We will be displaying information on how important bees are to nature and how they impact our day-to-day lives.

We are here to tell you about what we are doing within the University to support bees and the wildlife they co-exist with. We will also give you advice on how to help our small friends in your own gardens!

Whether you want to learn more about bees, learn how to help them, or just share your love of bees, please come to say hello during the day!