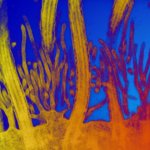 Marvellous Microscopes - Microscope Roadshow
In the Biomedical Imaging Unit we use microscopes to produce images of many types of samples.

For Science and Engineering Day we are holding a Microscope Roadshow where you will get a chance to use our microscopes to look at some of these - including plant, animal and human tissues!

You are welcome to bring your own objects to look at too.

We will show you how microscopes work, why we need them in research and diagnosis and allow you to get some 'hands-on' experience with them.

You can also try our 'Everyday objects under the microscope' quiz and learn more about how cells work and are affected in disease.