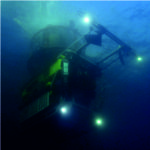 Age suitable for: All ages
Accessibility alert:

Flashing images
Darkened spaces
Hearing loop available
At the bottom of the Black Sea are preserved a series of remarkable intact ancient shipwrecks from the Roman and Ancient Greek periods. Boarding some of the most advance deep-water survey ships in the world, you will be transported aboard our Remotely Operated Vehicles (ROVs) to some of these incredible sites.

This journey will be completed through a 15 minute film featuring stunning 4k film footage, state-of-the-art computer-generated animations and an accompanying orchestral score, with a live narration provided by one of our experts. The film, originally designed for and shown on the Science Museum's Ronson IMAX screen, provides a unique insight into how marine archaeologists can investigate archaeological sites in the deep sea, along with the cutting-edge technology needed to study and record these sites.

Following the film, our experts will be on-hand to answer all of your questions.


* PLEASE NOTE: This event is free to attend but requires additional booking. To get your ticket(s), click on the blue button 'Book your ticket'.