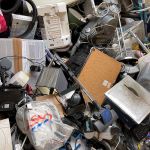 Transitioning to a Circular Economy with Creative Artists (TRACE)
Age suitable for: All ages
The award winning TRACE (Transitioning to a Circular Economy with Creative Artists) project in 2020 brought together artists, musicians, scientists and eighty school children to create musical performances and artwork by a professional artist to raise awareness of the growing e-waste (electrical and electronic waste) crisis.

Come and listen to scientists involved, Professor Ian Williams and Dr Alice Brock (Environmental Science at University of Southampton), who will discuss the project, show a short film about the process and final performances. And talk about the future of the TRACE project and how the arts can inspire change.

Supported by the University of Southampton's Engineering and Physical Sciences Research Council (EPSRC) Impact Acceleration Account (IAA).