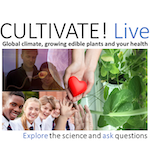 CULTIVATE! : plants, climate change and lifelong health
What part you can play in helping your health and the health of generations to come?

Join us on Thursday 17th March, 3:00 - 4:00 PM (GMT) for a live session. Hear about the links between the global climate, growing edible plants and your health. Ask questions and interact with Dr Mark Chapman, Dr Lucy Green and Dr Kath Woods-Townsend.
Don't forget to book your ticket!

While you are waiting... Welcome to our virtual escape room!
Can you solve the puzzles and find the answers to help us Escape Climate change?

Escaping climate change is a subject close to Greta Thunberg's heart; we need you to solve the puzzles to find the missing words from one of her speeches. Work on your own or in a team, in your own time and at your own pace.

Follow this link to the Escape Room: bit.ly/EscapeClimateChangeSOTSEF2022

Solving each puzzle will reveal a number, word or phrase that unlocks the next puzzle. Write down your answers as you go so that you can solve the final puzzle by filling in the missing blanks of Greta's speech.