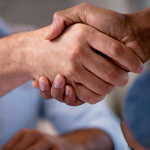 Degrees to Save the World: Working Together to Build a Better World
In this webinar, you'll find out how University of Southampton alumni working for the United Nations, the World Bank and in social enterprise are helping to build a better, fairer world through partnership and collaboration.

Join this webinar if you are interested in a career in international development, community development, reducing hunger and poverty, social entrepreneurship, business development and sustainable finance.

This webinar focuses on the UN Sustainable Development Goals of Reducing Poverty and Hunger and Partnerships for the Goals.

Degrees to Save the World is a series of webinars, from March - May 2022, where you can hear University of Southampton's graduates' inspiring career journeys as they tackle some of the world's biggest problems.