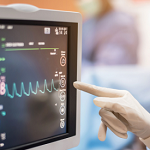 Degrees to Save the World: Revolutionising Health Care
In this webinar, you'll hear from University of Southampton students and alumni, who are transforming the future of healthcare and medicine using AI-driven health analytics to make chronic care faster, simpler and safer and revolutionising the diagnosis and treatment of musculoskeletal injuries in patients around the world.

Join this webinar if you are interested in a career in medicine, medical technology, physiotherapy, health sciences, nursing, elite/professional sports or health policy or artificial intelligence.

This webinar focuses on the UN Sustainable Development Goal of Good Health and Wellbeing.

Degrees to Save the World is a series of webinars, from March - May 2022, where you can hear University of Southampton's graduates' inspiring career journeys as they tackle some of the world's biggest problems.