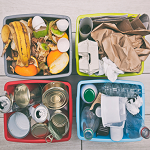 Degrees to Save the World: Reducing, Reusing and Recycling
In this webinar, you'll discover the ways that University of Southampton students and alumni are helping to promote and support sustainable consumption - from international recycling initiatives to using technology to reduce waste in the fashion industry.

Join this webinar if you are interested in a career in fashion design and management, recycling, corporate social responsibility, waste reduction, infrastructure development and supply chain management and logistics.

This webinar focuses on the UN Sustainable Development Goal of Responsible Consumption and Production.

Degrees to Save the World is a series of webinars, from March - May 2022, where you can hear University of Southampton's graduates' inspiring career journeys as they tackle some of the world's biggest problems.