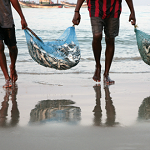 Degrees to Save the World: From Local to Global - Building Sustainable Communities in the UK and East Africa
In this webinar, you'll hear from University of Southampton alumni, who are working in local communities around the world; using Raspberry Pi technology to set up remote classrooms in rural Kenya, improving working conditions for fishermen in Tanzania and developing sustainable farms in Scotland.

Join this webinar if you are interested in a career in international development, community development, social entrepreneurship or technology for education and social impact.

This webinar focuses on the UN Sustainable Development Goals of Quality Education, No Poverty, Sustainable Cities and Communities and Climate Action.

Degrees to Save the World is a series of webinars, from March - May 2022, where you can hear University of Southampton's graduates' inspiring career journeys as they tackle some of the world's biggest problems.