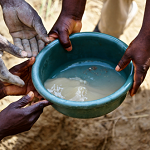 Degrees to Save the World: Creating Sustainable Change in Cameroon
In this webinar, you'll discover how University of Southampton students, engineers and specialists are working together to provide access to clean water supplies to communities in Cameroon.

Join this webinar if you are interested in a career in international development, civil engineering and infrastructure or building sustainable communities.

This webinar focuses on the UN Sustainable Development Goals of Clean Water and Sanitation, Sustainable Cities and Communities and Industry, innovation and Infrastructure.

Degrees to Save the World is a series of webinars, from March - May 2022, where you can hear University of Southampton's graduates' inspiring career journeys as they tackle some of the world's biggest problems.