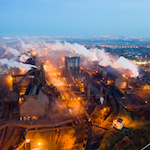 Degrees to Save the World: Tackling Climate Change
In this webinar, you'll find out how University of Southampton alumni are taking a stand against climate change - from developing new technologies to harness the power of carbon emissions and championing environmental sustainability at one of the world's biggest financial companies, to raising awareness of climate action across the South Asian community.

Join this webinar if you are interested in a career in science for sustainability, environmental, social and corporate governance (ESG) or community activism.

This webinar focuses on the UN Sustainable Development Goals of Climate Action, Industry, Innovation and Infrastructure and Sustainable Cities and Communities.

Degrees to Save the World is a series of webinars, from March - May 2022, where you can hear University of Southampton's graduates' inspiring career journeys as they tackle some of the world's biggest problems.