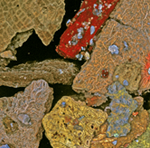 Marvellous microscopes: Focus on ... Advanced Light Microscopy
Electron and X-Ray microscopy only reveal structure. In contrast, fluorescence light microscopy allows us to record particular components and molecules in cells and tissues, often detecting multiple targets at the same time.

Confocal microscopes are very special fluorescence microscopes which only collect data from exactly the level at which the microscope is focused. By changing the focus point, we can capture 3D localisation data. It also produces, stunning, multi colour images.

In this live interactive session, join the Biomedical Imaging Unit team at the University of Southampton, to explore a range of samples by confocal microscopy.

This event will take place online, in Zoom. You will receive joining instructions through Eventbrite.

Don't forget to book also the other events of this special series 'Marvellous microscopes: Focus on...', running from Monday 14th to Friday 18th March.