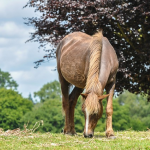 Forest to City: bringing the New Forest National Park to Southampton
Join us to uncover the secrets of the special habitats on Southampton's doorstep.

Discover the hidden value of heathlands in facing the climate emergency, the cleanest freshwater habitats in the country, find out why ponies and free roaming animals are the architects of the forest and reasons why we need the right tree in the right place.

Joining forces with the New Forest National Park Authority, the Freshwater Habitats Trust, the Countryside Education Trust and the Commoners Defence Association look forward to bringing the science and magic of the New Forest to the city.