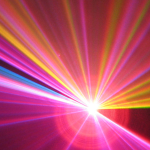 The Light Express Laser Show
Age suitable for: 5+
Accessibility alert:

Loud sounds
Flashing images
Darkened spaces
Hearing loop available
Limited access to wheelchair users
Be ready to be amazed by the Light Express, which features a dazzling laser light display created by powerful lasers not generally seen outside research labs!

The show features a series of fascinating visual demonstrations exploring the physics of light and the science behind the internet developed at the University of Southampton, along with a wealth of laser applications, including manufacturing.


A few ear defenders will be available to borrow on a first-come-first-served basis at the entrance of the lecture theatre (to be returned once leaving the room).


* PLEASE NOTE: This event is free to attend but requires additional booking. To get your ticket(s), click on the blue button 'Book your ticket'.