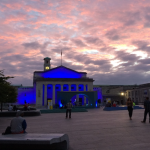 Future Cities Hub: help make the City a better place to live!
The Future Cities Hub works with local community groups (as well as the two Universities in Southampton) to make the City a more vibrant and people-oriented place, that promotes healthier and more sustainable living.

Our current focus is on giving local people a greater voice in the design and management of our neighbourhood streets, to make them more accessible and inclusive places, and enhance the existing mechanisms for how they have traditionally been designed and used.

You will be able to learn about our current work through the 'Is This Street Made for Me?' Project, which is being run by We Make Southampton (a community interest company), as well as the views of other experts/activists involved in urban design and transportation planning.

In addition to improving our environment, we also work with local arts/culture providers (and the City Council/other community hubs) to help make Southampton a more 'liveable city', e.g. by organising events such as TEDx and the community/music festival associated with Let's Ride, which encourage people to live and stay local. We are therefore also interested in hearing from you, should you have a community project or research idea that needs our support/sponsorship in the future!