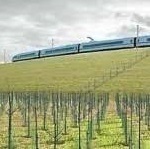 High Speed Railways: Can You Optimise Their Earthworks?
Join us to discover how civil engineers design infrastructure such as High Speed Railways.

You will have a chance to build your own model embankment using a range of miniaturised construction techniques!

Who will build the highest stable embankment and how will they do it?

We will show how smart construction ideas can make a stable support for High Speed Rail, while minimising the land take and environmental disturbance.

Staff who teach and research on railway construction and maintenance will be on hand, to talk about how civil engineering keeps our railways running.