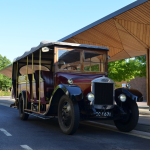 Experience the Twenties through a Vintage Bus!
Come along to see a 1928 vintage Dennis charabanc bus and experience engineering from a century ago!

You'll have a first-hand experience of a bus that's 100 years old, is 20 ft. by 8 ft., can seat 16 people, is convertible, and is only one of four existing in the world! If you'd like to, you (and yours) will even be able to sit in the bus and have a photo taken with you as the "driver"!

We'll show you the ongoing restorations to get the bus back on the road, and explain how different parts of the bus worked back in the day!

We've been taking care of the bus at the University of Southampton since 1958, and you'll be able to see the history of the bus as well as all the exciting places it has travelled to over the years - including as far as Venice!