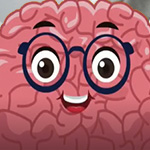 NEUROKIDS: Discover the wonders of the brain
Do you want to know how many cool things the brain can do?

Have you ever thought... I wonder how the brain looks like; how big and heavy is my brain; what part of the brain makes me ride my bike. How do doctors and scientists know all those cool things about the brain? Want to find out how doctors and researchers study the brain? Do you know what MRI stands for?

Well... come and find us in the NEUROKIDS area and take part in our fun and interesting activities about the brain. Come and meet BRIAN and the NEUROKIDS team to discover the wonders of the brain. Take part in our fun activities and workshops and ask BRIAN questions about the brain.

Have fun making a model of the brain and a neuron, take part in our exciting "egg-speriment", discover the different parts of the brain and why not take part in our drawing and writing competition. Have a go at the fun quiz and activities.