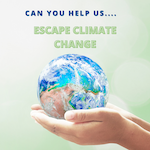 Journey with us on our mission to 'Escape Climate Change'
Age suitable for: 7+
Accessibility alert:

The climate change emergency is apparent for us all.

We have seen how teenagers can be a powerful force for change.

We brought together a group of young people to research the science behind the unfolding emergency, and to hear the stories of the impact of climate change in different locations around Southampton; the New Forest, Weston Shore and the city itself.

Our climate change youth group have gone on develop theatre pieces to tell the stories of climate change in these environments, with the final performances taking place over the Jubilee Bank Holiday weekend - (Southampton 2/6/22; Beaulieu 4/6/22).

However, we need your help as well - can you solve our escape room and 'Escape Climate Change' with us? You will have 30 minutes to solve our scientific challenges to reveal clues and complete Greta Thunberg's inspiring speech.

This fun climate change themed escape room activity will get you exploring the biggest threats to the planet, how they affect growing plants and our food, and what this means for your health.

This activity is suitable for ages 7+ (with adult supervision).

We would also like to invite you to see behind the scenes as we have developed our theatre pieces in our photo exhibition, which captures the story behind the story and shows the beautiful environments we live in and which we need to protect.