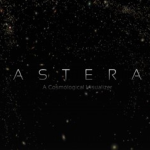 Creating a Universe with Artist David Blandy
Age suitable for: 7+
Accessibility alert:

Intense smell
Hearing loop available
Create your own Universe in a 45-minute workshop with the artist David Blandy.

The workshop offers a creative way to help visualise the scale of the cosmos and the galaxies within it.

The Workshops are inspired by Dr Francesco Shankar's 'Astera' Cosmic visualisation project.

David Blandy will be offering three creative workshops: two for participants aged 7+ Years and one for adults.

Workshop materials provided for a maximum of 15 participants for each workshop.

David Blandy's solo exhibition "Edge of Forever" will open in 2023 at John Hansard Gallery, Southampton.


* PLEASE NOTE: This event is free to attend but requires additional booking. To get your ticket(s), click on the blue button 'Book your ticket'.