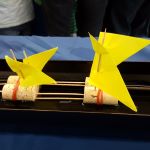 Boats! Boats! Boats! with Lloyd's Register
Age suitable for: All ages
Accessibility alert:

Tactile activities for visually impaired
Ever wondered why those massive cruise ships don't just fall over?

Or what stops a ship from just breaking in two in a storm?

Want to know why some ships are faster than others?

Come and find out from Lloyd's Register where we will be using Play-Doh to show how we make ships strong and using a Lego catamaran to demonstrate ship stability.

You'll also get to make your own cork boats and race them against each other!