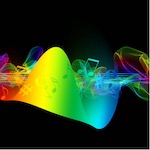 How is sound perceived by smart speakers?
Since Apple introduced SIRI to the iPhone 4S in 2011, we have come to expect technology to understand our voices accurately. Now, more than 10% of UK adults own a smart speaker, and all our phones come with a voice activated virtual assistant. What advances has artificial intelligence brought to these products? Where else is this technology useful? What comes next?

Translating a spoken sentence into words is one problem, but in the real world we also have to deal with background noise and multiple speakers. This is known in machine listening as the "cocktail party problem". The human hearing system solves this problem well and inspires many machine listening methods.

Our three-dimensional sense of hearing allows us to focus on a single speaker and understand them, without having to consciously ignore background sounds. "Sound localisation" is a subtopic within machine listening that aims to determine the direction of incoming sounds, to replicate this three-dimensional hearing.

Join us at Science and Engineering Day for a live hands-on experience, experiencing machine listening in action.

We will demonstrate and explain how cutting edge "sound localisation" tech works, why it is useful, and where you might find it in every-day life!