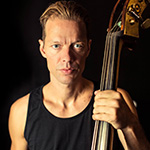 Turner Sims presents: Jazz as Social Machine
Accessibility alert:
Loud sounds
Darkened spaces
Hearing loop available
£18, £16.20, £9 (see website)
The age of AI jazz is dawning. Huge advances in computing power and machine learning technology mean that algorithms can now improvise in the style of the jazz greats. Can a computer really compose great jazz?

For the launch of a new project, band leader and composer, Dan Mar-Molinero, and the ensemble are joined by two of the leading voices in international jazz, Julian ArgŁelles and Jasper HÝiby. The band showcase the exceptional pedigree of jazz musicians who all share a deep connection to Southampton; whether through Southampton Youth Jazz Orchestra, the University of Southampton, or as musicians embedded within the city.

Featuring music from Dan's new album, the concert will also include responses to the music from a very special guest from Taiwan: the Jazz Transformer Algorithm, an artificial intelligence project that can create non-human jazz solos. A fascinating scenario whereby computer technology will be improvising, possibly for the first time at Turner Sims!


PRE-CONCERT ROUNDTABLE DISCUSSION | 16:00 GMT

Join us at 4 PM for a roundtable discussion chaired by Dr Thomas Irvine, Associate Professor in Music and Alan Turing Fellow with Jasper HÝiby, Julian ArgŁelles and Dan Mar-Molinero. Featuring special guest Dame Wendy Hall FRS, Regius Professor of Computer Science, University of Southampton.